January 9, 2009
This mash-up of two games lead to the creation of another pioneering game.Identify all three games and connect.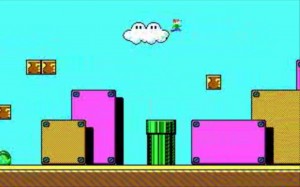 Cracked by Vaishnavi , shrik , akhi and duriel.
Answer:
John Carmack put together a version of Super Mario Bros. 3 with the lead character replaced by Dangerous Dave as a demonstration of smooth-side-scrolling on the PC. The demo was succesful and eventually led to the development of Commander Keen!