November 10, 2007
1.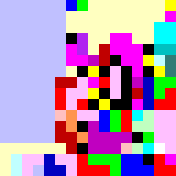 2.
1 is a computer program which prints "Hello World". Really.
2 is the logo of a Google's internal product (quite famous for some reasons).
The language in which 1 is written and the product 2 are both named as a tribute to the same person. Who is he?
Hint: Both 1 & 2 resemble what this person has created. Specially 2.
Cracked by: udupendra , bobo , jayanth , yaksha , Tathagata Chatterjee , sumanthvanahalli , nisha's thambi , Suyog , Shakeel and Shreyas.
Answer:
1. "Piet" an esoteric programming language designed by David Morgan-Mar, whose programs are bitmaps that look like geometric abstract art. Piet was named after the Dutch painter Piet Mondrian.
2. "Mondrian" Guido van Rossum's first project at Google.